Blaze through your next triathlon with the best socks for triathletes! You may not need the socks for the swimming part, but you will definitely need them during the run and cycling to keep your feet dry and comfortable through the competition.
In a Hurry? Here are Our Top Choices
The 4 Best Triathlon Socks
In this article, we'll cover some of the best triathlon socks that you can buy.
1. Balega Blister Resist
Balega's latest no-show socks are made from all-natural fibers and feature the best of technology. They are thinner than in the past and have a seamless toe box that minimizes friction and prevents chafing.
The high-volume cushioning ensures comfort for extended training and triathletic sports activity. The socks are available for both men and women in a variety of colors and sizes. They have a 5-star rating which is impressive.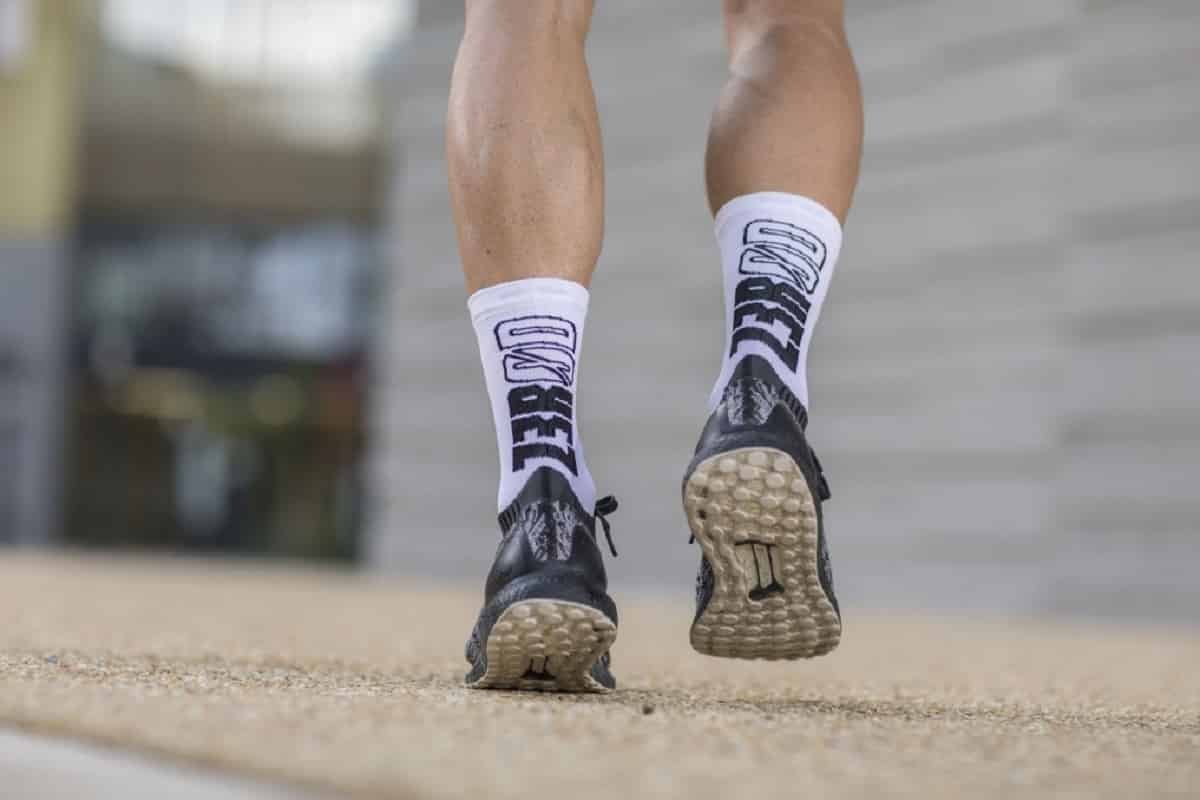 2. Danish Endurance
These are full length, unisex cycling socks. They will help you achieve optimal performance on your rides, every time.
Whether you are mountain biking, road racing, spinning at the gym, doing a triathlon, or biking in the city, the Danish Endurance socks are the perfect solution for you. Made from breathable fabrics and padded with anti-blister zones, these socks will provide you with the ultimate cycling experience.
3. Swiftwick Performance
The Swiftwick Performance Four socks are built for durability and value. They are made with Olefin fiber that wicks moisture and dries quickly, so your feet stay dry and blister-free whenever you go on a triathletic adventure.
The socks feature upper channels that provide ventilation for increased breathability. This prevents hotspots and keeps your feet cool in the thick of sports.
The socks have 4.5 stars and highly recommended.
4. Rockay Razer Trail
These triathlete socks from Rockay Razor provide the perfect balance of protection and performance. The socks will fit snugly on your feet with carefully placed mesh zones that keep your feet cool and dry on a run.
They have extra high cushioning on the heel and Achilles to prevent blisters and protect the back of your foot from chafing. The right height and firm elastic at the top keep them from sliding down. The socks have a good 4.5-star rating on the Amazon store.
Why Choose Specialty Socks for Running and Cycling?
Keeping your feet dry and comfortable can make a world of difference when you run and cycle during a triathlon. Socks designed specifically for a triathlon can help prevent blisters from where your feet touch and rub against your shoes. Also, good quality socks made with quick-drying material helps avoid squishy shoes from becoming too sweaty. They can also help prevent getting soggy skin from being wet a long time and keep your footing firm on the run.
This may not seem to matter in the winter. However, if you live in a hot place or go for a triathlon competition in the mid of summer, keeping your feet dry and cool matters a lot.
Material and Height
When you choose your socks you may want to think about the material and the height you want to wear.
Socks can be made of wool, polyester, cotton, or a synthetic blend that is made from a mixture of materials. Some triathlon socks have funky stuff like copper woven in the sole or back to be extra special.
Socks can be very thin or slightly thicker made with a fluffy feel. That is pretty much up to your personal preference.
Some sports socks have compression in part or even all over the sock. This helps keep the sock on snugly and doesn't wrinkle. Many athletes prefer that feeling of compression. However, some athletes prefer socks to be slightly loose to keep their feet comfortable.
For length, depending on the brand, you can choose from "no show" socks that are worn below your ankle to full length that will cover all or midway up to your calf.
Cycling vs Running Socks
In most cases, triathlon socks designed for both activities work fine for running as well as cycling. However, the reverse is not always true. Socks designed specifically for running or cycling may feel slightly off when you do the other activity on a triathlon run.
Cyclists prefer to choose a higher length sock to help keep the road dirt and grime off their legs.  But runners do well with no show socks. Triathletes can go with either and there is plenty of variety available in the market.
Size of Your Socks
Most triathlon socks are sold in a size range (for instance size 7 – 11) and they work fine within that range. There is a bit of loosening and compressing as you use them repeatedly.
Like running shoes, if you are planning to go on longer distances you may want to use socks of a bigger size to allow for your feet to swell a bit over the duration.
Why are Some Triathlon Socks Marked for Right and Left Feet?
Many varieties of triathlon socks have compression for the arch of your foot. If that is the case, they will be marked to use for your right or left foot. This ensures that the compression weave or pattern is in the correct spot and doesn't feel awkward.
How Much Do Triathlon Socks Cost
Specialty triathlon socks made for both running and cycling are slightly more expensive than casual athletic socks. However, they offer a better all-round fitting so the expense can be worth it in the long run.
Triathlon socks also tend to last longer. They cost around $12 to $25, depending on the quality and make.
Our Final Thoughts
Many triathlon runners don't feel comfortable in their regular socks. This is so much the case that they may choose to run with no socks at all!
However, not using socks can cause irritation and chafe your feet. You are also more likely to torque over and feel a bit of pinching and pressure on the top of the foot. Our advice is to buy and use good quality triathlon socks and you will see a noticeable improvement.