A good triathlon suit is an investment most triathletes consider making at one point. Sure, you can participate in a triathlon with a regular wetsuit, but you can't expect to be comfortable or even win the marathon. Regular wetsuits are made for casual diving or boogies boarding. They don't sustain complex and repetitive hand movements. So, you can expect your wetsuit to allow water to seep in. However, a triathlon suit is designed for the event, and it can weather harsh conditions. Whether the water is too cold or warm for swimming, your triathlon suit will maintain appropriate temperatures so you can focus on finishing.
With all this talk about the best triathlon wetsuits, we forgot to ask, do you know "what is a triathlon?" Before we jump into the details of a wetsuit, let's understand what a triathlon is.
In a Hurry? Here are Our Top Choices
What Is A Triathlon?
A triathlon is an event that has 3 different races, namely swimming, cycling, and running, which challenges your skills as an athlete and go hard on your stamina. All three races are back to back, so you can't expect any resting time. If you are a fitness enthusiast, a triathlon race is what you need, and with the next event around the corner, you might need to check out our list of the best triathlon wetsuits.
The 5 Best Triathlon Wetsuits
A robust triathlon wetsuit must be comfortable, soft, and flexible. But these are the qualities of a regular wetsuit as well – precisely. But triathlon suits have a variety of other functions as well.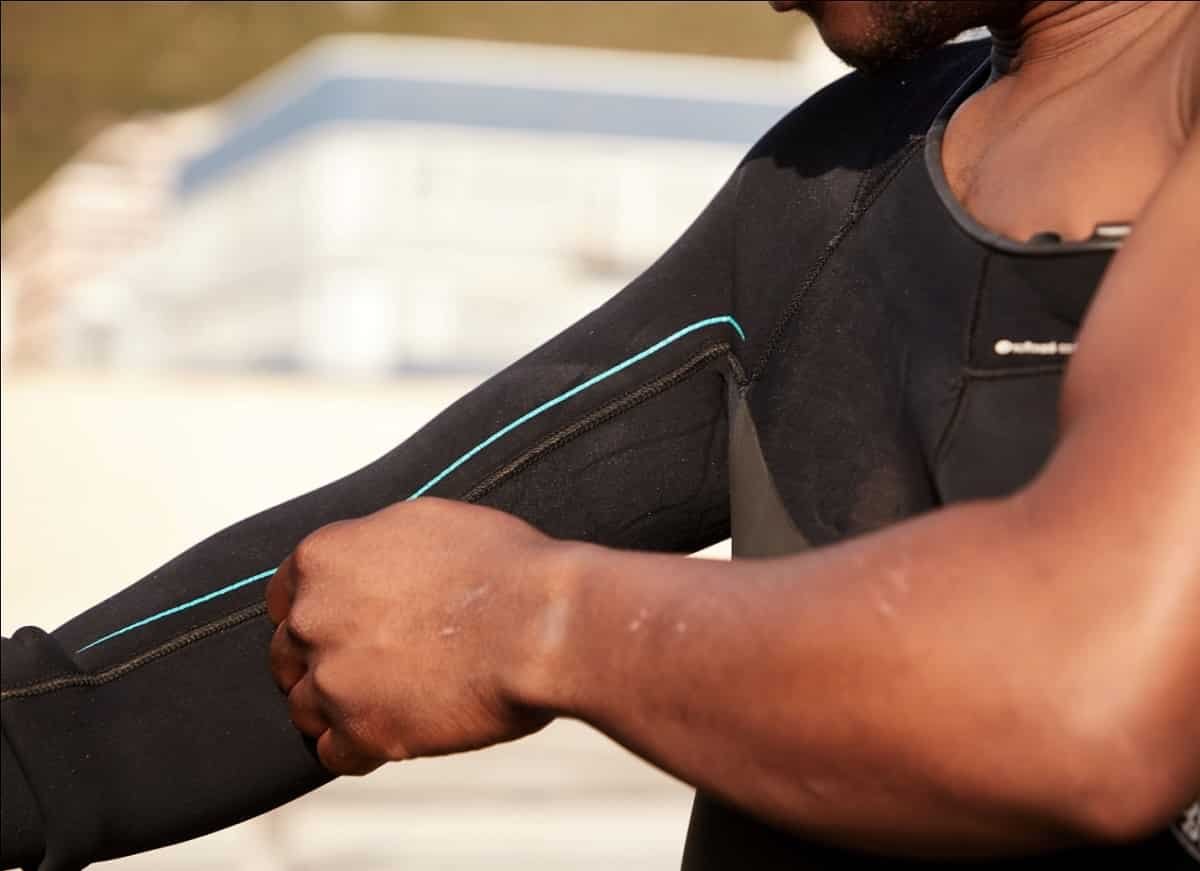 1. Blue Seventy Sprint
We love the Blue Seventy Sprint triathlon wetsuit. It has an amazing design with the right amount of flexibility you need in water. The best part about blue Seventy is that the manufacturers aren't complacent with it. The Blue Seventy model keeps getting refined, and the latest neoprene thickness and design ensure you are getting plenty for your wetsuit. Moreover, the easy out ankles give the suit some extra comfort, and you can easily take it off. Unlike other manufacturers that cut out the heels area, Blue Seventy has a stretchy material that will protect your feet from the cold water and allow for better open strokes.
Key Features
Good quality material
Stretchy heels area
Easy to wear and take off
Allows better open arm strokes
2. ROKA Maverick II Comp
The ROKA Maverick II is an excellent choice over some of the other triathlon suits in the market, and it has a unique feel to it – something in a good way. The ROKA has wider shoulder panels called "Arms Up," allowing easy movement while in water. Unlike other triathlon wetsuits, the ROKA Maverick does have neoprene or seams that can cause rashes on your body. ROKA focuses on little things that matter, like a marker, which allows you to know you are wearing your suit right. In summary, The ROKA Maverick is an excellent choice for triathlon enthusiasts because this suit will last you more than 2 years.
Key Features
Good build quality
Premium material
Excellent movement area
3. Xterra Vortex
The Xterra Vortex is an all-rounder triathlon wetsuit from a maker we trust. The vortex is an all-purpose wetsuit because of its versatility and excellence. You can't find a better triathlon suit than this because of its insulation properties that keep your body at normal temperature even in the cold water. Moreover, you won't notice any water seepage, and it's easy to take off as well. The ankles are designed for flexibility with a tight grip that compliments the overall design of the wetsuit. A lime green marker can easily be seen from a mile away, allowing the spectators to see who is winning the race.
Key Features
Versatile design and a soft material finish
Comfortable on the body
Doesn't leave stretch marks on the body
Allows greater hand and leg movement while swimming
4. Orca 3.8
Orca 3.8 is a triathlon wetsuit we trust, and it's the most durable suit in the market. You can expect this wetsuit to last for more than 3 years, and you won't need to upgrade unless you are looking for a better version. The combination of bright orange with black helps you stand out from others and helps you stay afloat. The core lateral stabilizer technology on the back of the suit is stiff, meaning you won't encounter any spinal cord injuries or pain while carving your way through rough water. In summary, the Orca 3.8 is a great choice for those who fear hurting their back while swimming. Moreover, the suit also provides relaxed arm movement so you won't stretch nay muscles in the water.
Key Features
Exolift and Aerodome technology
Flexible neoprene for better movement in the water
Premium quality material
Protects the spinal cord from sustaining damages against high waves
5. Blue Seventy Helix
Last but not least is our favorite Blue seventy Helix triathlon wetsuit. This Blue Seventy model comes in a blend of orange, black, and blue to create a unique look, all the while maintaining the robust functionality of the design. You can find 5-5-4 pattern core support buoyancy to raise the hip's position for a better posture. Moreover, the suit is made with premium quality neoprene, so you can say goodbye to stretch marks and rashes. A VO2 chest panel that adjusts to your body structure gives you a comfortable swimming experience while maintaining your strokes' integrity.
Key Features
VO2 chest panel technology
Flexible material
Core support buoyancy
Our Final Thoughts
All things considered, the best wetsuit is one that matches your body structure and helps you stay afloat. You can't expect to maintain your posture while competing for first place, so you will need a posture-supportive wetsuit. The best triathlon wetsuits are designed to deliver robust results both in and outside the water so that you can focus on your marathon.